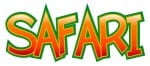 Monthly Focus: Jesus is Alive!
Bible Story: John 20:11-18
Weekend Activity: Jesus is Alive! coloring page
All April your child has had fun learning that Jesus is Alive! This weekend, they colored a Jesus is Alive! coloring page and talked about what it means that Jesus is alive. Take your child's coloring page and hang it by their bed. When your child is getting ready to go to sleep, point to the picture and say, "Jesus is alive and that's exciting news! We should share that news with others!" Have your child tell other families that Jesus is Alive!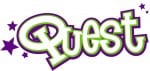 Bible Story: John 21:1-14
Series Bible Verse: 'And surely I am with you always, to the very end of the age' – Matthew 28:20b
Lesson Overview: This weekend in Quest, we learned "I will obey!" from from the story of Jesus and the miraculous catch of fish. A few of Jesus' disciples were in a boat fishing, but were not catching any fish. When Jesus told them to throw their nets to the other side, they obeyed Jesus and their nets were full!
This week at home, practice obedience in a fun way with your child! Make a list of things your child can do this week to help around the house and hang it on your refrigerator.  If your child obeys you, have your child put a fish shaped sticker on the list next to the item they completed.
Use this as an opportunity to review this week's Bible story about how the disciples obeyed Jesus when they threw their nets to the other side of the boat.

Monthly Virtue: Faith – Believing in what you cannot see.
Monthly Bible Verse: "We live by faith, not by sight."  2 Corinthians 5:7
Bible Story: Crossing the Red Sea :: Exodus 13-14, Hebrews 11:29
Lesson Overview:  It's the third week of our Inked series and we are learning all about faith – believing in what you cannot see.  The first weekend of April we learned about Abraham who had faith to go to the land God had promised him, even though he had no idea where that land was.  Then we learned about Noah, who had faith even God asked him to build an ark in the middle of a dry spell.
This weekend we learned about Moses leading the Israelites out of Egypt.  Moses had faith that God would show him where to go and what to do, but the Israelites also had to have faith in God that He would direct Moses to lead them to safety in the Promised Land.
Faith is a lot like invisible ink.  Motion kids did an activity this weekend called "Invisible Verse" where they used invisible ink to help learn the April Bible verse.  The kids couldn't see the invisible ink on their papers, but had to have faith that the Bible verse was written.
Spend time this week as a family creating messages with invisible ink.  Download the instructions, and make sure to tweet pictures of your family doing this fun experiment!  Make sure to include "@eKidz" in your tweet!
WEEKEND RESOURCE:  Week 3 GodTime Card