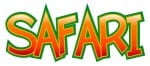 Monthly Focus: God wants me to celebrate His creation!
Bible Story: Genesis 1 – 2:2
Weekend Activity: Light So Bright
This May is all about CREATION and celebrating what God made!  This weekend your toddler learned that on days 1 and 2 of creation God created the light, sky, land, and water.
Continue the lesson at home with an activity called Light So Bright. Grab a flashlight and help your child turn off the lights in a room. Turn the flashlight on, point it at an object, and say, "let there be light." Ask your child, "what is the light shining on?"
Continue shining the flashlight on objects around the room, each time saying, "Let there be light," and asking your child "what is the light shining on?" Say, "God created light, and everything we see! Let's celebrate what God has created. I'm going to shine the light on you and I want you to dance a celebration dance!"
WEEKEND RESOURCE:  Download the May monthly newsletter for songs and activities to supplement at home what your child is learning in eKidz.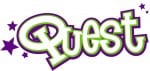 Bible Story: Psalm 145:1-13 :: David sings praises to God
Series Bible Verse:  Worship the Lord with gladness; come before Him with joyful songs.  Psalm 100:2
Lesson Overview:  The hottest new worship band in town – The Guppies – is in Quest!  Over the next four weekends, we will hang out with lead singer Pearl, guitarist Leaf, and drummer Z, and learn what it means to worship God in our everyday lives during our new series called The Biggest Fan.
This weekend the tour bus driver, Enzo, taught us "I worship God when I sing to Him" from the Bible story of David singing praises to God.  We can sing to God at church, at home when we are doing chores, in the car on the way to school, and even outside riding bikes with friends!
Your child also received their very own Guppies concert poster this weekend. But there is something missing from the poster . . . the band member's faces! Each weekend collect a new band member's face.  Collect all four faces and bring the concert back to Quest the weekend of June 5 and 6 for a rock star prize!
WEEKEND RESOURCE: "Leaf" Face Cutout

Monthly Virtue: Honor – Acknowledging the value in others.
Monthly Bible Verse: Honor one another above yourselves.  Romans 12:10b
Bible Story: Joshua and the pile of stones :: Joshua 4
Lesson Overview:  This weekend in Motion we learned that we can honor someone by acknowledging their value, or showing them how important they are to us.  No one deserves our honor more than God!  We can honor God by remembering what He has done for us.
Joshua and the Israelites used 12 stones to build a monument that would always remind people how God brought the Israelites out of slavery and into the Promised Land.
Joshua and the Israelites built a monument as a way to honor God.  There are many ways that we can honor God for all He does for us.  Pick four days this week to spend time with your child and do a daily devotional from their GodTime card.  Each day focuses on a different way to honor God.
WEEKEND RESOURCE:  Week 1 GodTime Card