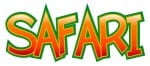 Monthly Focus: God wants me to celebrate His creation!
Bible Story: Genesis 1 – 2:2
Weekend Activity: The Big Bucket
God wants us to celebrate His creation and each weekend in May your toddler is celebrating God's creation with an activity called The Big Bucket.
Create this activity at home to teach your child about creation and that God wants us to celebrate His creation.
Fill a colorful bucket with the following items:

Once the bucket is filled with the items, have your toddler pull out one item at a time and ask, 'what is this?' 'Who created this?'
Explain what each item is and lead your toddler in saying "God created it!' Celebrate God's creation every time an item is pulled out of the bucket. Clap, dance, and throw your arms up in the air to celebrate God's creation!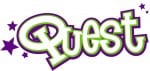 Bible Story: 1 Samuel 1:10-11, 2:1-2 :: Hannah's Prayer
Series Bible Verse:  Worship the Lord with gladness; come before Him with joyful songs.  Psalm 100:2
Lesson Overview: This weekend in Quest we learned all about the power of prayer! We learned about Hannah, a woman in Bible who really wanted to have a baby. She prayed to God and God answered her prayer by giving her a baby. Children learned that we can pray to God anytime, anywhere, and about anything – and that He always hears us when we pray!
Your child learned "I worship God when I pray to Him!"  In Quest, we sing a fun song with hand motions to get ready to pray. Use the little prayer song below to help your child get ready to pray at home, too!
Open them, close them, (open your hands, and close your hands)
Open them, close them, (open your hands, and close your hands)
Give a little clap! (open your hands, and then clap your hands together one time)
Open them, close them, (open your hands, and close your hands)
Open them, close them, (open your hands, and close your hands)
Fold them in your lap! (put your hands together and fold them in your lap)
This is the second weekend of hanging out with The Guppies – the hottest new worship band in town!  Make sure to glue the Enzo face your child received this weekend to their Guppies concert poster.   Each weekend collect a new band member's face.  Collect all four faces and bring the concert back to Quest the weekend of June 5 and 6 for a rock star prize!
WEEKEND RESOURCE: "Enzo" Face Cutout

Monthly Virtue: Honor – Acknowledging the value in others.
Monthly Bible Verse: Honor one another above yourselves.  Romans 12:10b
Bible Story: The Thankful Leper :: Luke 17:11-19
Lesson Overview:  This weekend was all about HONOR – learning about the thankful leper who honored Jesus by returning to thank Him for healing him and learning ways to honor people in our life who take care of us!
One way we can honor others is by thanking them for what they do for us and with us, and who better to honor and thank on this mother's day weekend than our moms?  Moms – be on the lookout for notes 'appearing' around the house this week … your child put together a custom thankful kit to honor you for all you do!
One day this week talk with your child about the Bible story from Luke 17:11-19.  Use these questions to review the Bible story and generate discussion:
How many people had leprosy? (10)
What did Jesus tell the people with leprosy to do? (go to the priest)
What happened on their way to the priest? (they were healed)
How many of them came back to thank Jesus? (one)
Why didn't the other 9 come back to thank Jesus? (They didn't understand or appreciate what He had done for them.)
How did the leper honor Jesus? (He came back to thank Him for healing him.)
How can we show honor to others? 
Describe a time when you didn't say thank you for something someone did for you. 
Give an example of someone in your life that you could honor by thanking him or her.
Give an example of a time that you felt honored. What made you feel honored in that situation?
WEEKEND RESOURCE:  There is no GodTime card – the Mother's Day Thankful Kid Kit activities replaced the GodTime card for this week.