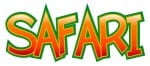 Monthly Focus: God wants me to celebrate His creation!
Bible Story: Genesis 1 – 2:2
Weekend Activity: Creation Rhyme
We continued our focus on creation this weekend by learning that on days 4 and 5 of creation God created the sun, moon, stars, fish, and birds! Your child learned a new rhyme to help them remember what God created. Use the creation rhyme with your child and continue to celebrate God's creation at home!
God made the sun, (hold arms in a circle over your head)
Up in the sky. (point up)
God made the fish, (put palms together and wiggle hands back and forth)
And the birds that fly. (place hands under arms and flap them up and down)
God made the lion, ("Roar")
God made the lamb. ("Baa")
God made our world, (hold arms out and turn in a circle)
See how happy I am? (smile and point to smile)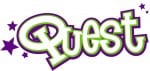 Bible Story: Luke 21:1-4 :: The Widow's Offering
Series Bible Verse:  Worship the Lord with gladness; come before Him with joyful songs.  Psalm 100:2
Lesson Overview: 
From the Bible story about the widow's offering we learned that we can worship God when we give!  The poor widow gave an offering to God, and although it was only two small coins, Jesus knew that she gave all she had and was worshipping Him by giving what she had.
We played a fun game during Small Group where each child was able to practice giving an offering of their own! Each child received two pennies to use in one of three ways – to give an offering, to spend on a pretend toy, or to save for something special. Children took turns deciding what to do with their pennies, and each time someone put two pennies in the offering bucket, we practiced saying our Main Point (I worship God when I give!) together as a group.
Did you know that children have the chance to give an offering in Quest each week? Each time your child earns money from doing chores or receives birthday money, talk to them about the importance of giving to God.  Encourage your child to bring their offering to church or give them offering money to give during Quest.
Weekend Resource: Pearl Face Cutout

Monthly Virtue: Honor – Acknowledging the value in others.
Monthly Bible Verse: Honor one another above yourselves.  Romans 12:10b
Bible Story: Aaron and Hur Hold Up Moses' Arms :: Exodus 17:10-13
Lesson Overview:  Moses, Aaron, and Hur were our examples as we learned more about honor this weekend.  Aaron and Hur honored Moses by holding up his arms and helping the Israelites win the battle against Amalek.  Through this story we learned that God wants us to honor the people He has placed in authority in our lives – just as Aaron and Hur honored Moses.
Ask you child about the honor commitment that is part of the GodTime card this week.  The commitment reads:
I, _______________________, commit to work really hard to show honor 
to the people in authority over my life this week through my words, my 
attitude, and my actions.
Challenge your entire family to sign the honor commitment this week.  Print out copies of the commitment and put it around the house (on the fridge, the kitchen table, bedroom door, or the bathroom mirror) as a reminder to honor others.
WEEKEND RESOURCE:  Week 3 GodTime Card