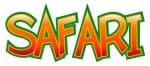 This month our focus is God hears me when I pray. Our Safari-age children have been hearing the story of Daniel in the lion's den each weekend. They are learning that Daniel was scared in the lion's den, but when he prayed to God, God heard him and kept him safe from the lions.
Continuing the Conversation
A fun way to continue the conversation this week, is to plan a family movie night and watch the Veggie Tales movie, Where's God When I'm Scared. You'll join Bob and Larry as they remind children that with God, there's nothing to be afraid of!

This past weekend, your Quest-aged child (3 years old – kindergarten) learned the main point, 'God is powerful!'
Continuing the Conversation
To continue the conversation, read the story of Moses parting the Red Sea with your child, found in Exodus 8:1-15, 14:5-31. God used Moses to show His power to all the Israelites by parting the Red Sea, so they could escape from the Egyptians. Your child participated in a fun activity that you can easily replicate at home this week called 'Are you powerful?'. After you have reviewed the Bible story, have your child complete the following challenges to see how powerful he/she is:
Jump as high as you can 10 times!
Do 10 pushups as fast as you can!
Do 20 sit-ups!
Run in place as fast as you can!
Flex your muscles!
Stretch forward and try to touch your toes!
Do the butterfly stretch for 10 seconds!
After your child has completed the challenges, talk about how he/she might be strong or powerful and can do all those challenges, but God is the most powerful of all! There is no one more powerful than God!

This weekend in Motion we wrapped up our series on Knowledge. Kids learned that when they discover what God's Word says, it helps them to know how they should treat others.  They had the opportunity to share ideas about how they would treat their friends, neighbors, and family in various situations, through games like Bible smuggle and phone a friend. They also learned sign language for the phrase, "Thank you, God. I love you. Help me know you better," as a wrap up and reminder of our virtue: knowledge.
Continuing the Conversation…
The entire month of October has been dedicated to showing your kids the value of reading, studying, and knowing God's word. In addition to helping your child with their GodTime cards, find some time this week to sit down with them and get them to show you the sign language they learned.  This activity is not only a great reminder of our need to study what the Bible says, but it's also a great reminder that God calls us to tell everyone about who He is.