Happy Memorial Day!
Thank you to the service men and
women who have served our country.
We are grateful for your sacrifice!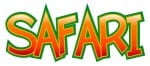 Monthly Focus: God wants me to celebrate His creation!
Bible Story: Genesis 1 – 2:2
Weekend Activity: Fuzzy Sheep Craft
The past three weekends we have had a lot fun celebrating God's creation!  This weekend we learned that God created animals and people on Day 6 of creation.  The fuzzy sheep craft your child created is a fun reminder that God created animals!
While playing with your child, play the animal name game.  Name different animals (sheep, cow, rooster, duck, dog, cat, pig, lion, donkey) and ask your child , "what sound does this animal make?"  Say, "God created all these animals, but He saved His best creation for last.  The last thing He created was people – you and me!  Let's celebrate by praying to God and thanking Him for creating us!"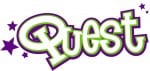 Bible Story: Acts 3:1-10 :: Peter, John and the lame man
Series Bible Verse:  Worship the Lord with gladness; come before Him with joyful songs.  Psalm 100:2
Lesson Overview: This past weekend in Quest we learned "I worship God when I love others" from the Bible story of Peter, John, and the lame man. We learned that Peter and John showed love to the lame man by stopping and talking to him and saying kind words to him.
We also concluded our series "The Biggest Fan" and saw Pearl, Leaf and Z learn to show love to others, too. Leaf tricked Pearl and Z and pulled a rope that poured confetti on the band right before the show!  Pearl and Z were mad at Leaf for covering them with confetti and said mean words to him. After hearing the Bible story, Leaf learned that he should show love to his friends by doing kind things and apologized to Pearl and Z.  Pearl and Z also apologized to Leaf for saying mean words.
Is your child missing one of the band face cutouts for their Guppies Concert Poster?  You can print any of the The Guppies heads for your child's concert poster.  If your child brings back their completed Guppies poster to Quest next weekend (June 2/3) he or she will receive an awesome rock star prize!
Weekend Resource: Week 4 Z Face Cutout, Week 3 Pearl Face Cutout, Week 2 Enzo Face Cutout, and Week 1 Leaf Face Cutout.

Monthly Virtue: Honor – Acknowledging the value in others.
Monthly Bible Verse: Honor one another above yourselves.  Romans 12:10b
Bible Story: Jacob and Esau :: Genesis 32:13-21, 33:1-12
Lesson Overview:  This weekend we read a story about two brothers who went over the top to honor one another.  One brother brought a lot of extravagant gifts and the other brother accepted the gifts even though he really didn't need them.  The story of Jacob and Esau is a great reminder that God wants us to go over the top to honor the people in our life too.
All month we've been learning about honor from the Newmanators, a professional dodgeball team.  Were the Newmanators able to defeat the rivals, the Dodgestars, in the final match this weekend?  Check out the eKidz blog tomorrow to see the final episode!
In dodgeball, whenever a ball is in the game it is considered a live ball.  If the ball hits the wall, floor, or a teammate it is considered a dead ball for 10 seconds.  Use these two rules and play the game "Live Ball" with your family while practicing this month's memory verse!
Grab a dodgeball (any round ball with work) and stand with your family in a circle.  Give one family member the ball, say "Go!" and players will begin to toss the ball to one another and recite the verse word by word. (For example, the first person will toss the ball to a teammate and say, "Honor." The person who catches the ball will toss it to someone else and say, "one.") Play will continue until your family has said the entire verse four times while keeping the ball live the entire time.
WEEKEND RESOURCE:  Week 4 GodTime Card