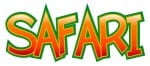 Monthly Focus: God wants me to obey!
Bible Story: Genesis 6:9-14, 17-22
Weekend Activity: Noah's Ark sticker page
This June, toddler's will be learning that God wants me to obey! from the story of Noah.  Toddlers learned that Noah obeyed God and built an ark.  Use the Noah Ark sticker page your child made to review the Bible story each night.  Place it by your child's bed and review the story right before bedtime.  Point to the sticker page and ask:
Who told Noah to build the ark? (God)
Did Noah obey God? (yes)
What did Noah bring on the ark? (his family and two of each animal)
Review the monthly focus with your child.  Say, 'Noah obeyed God and you can too! Repeat after me, God wants me to obey!'
WEEKEND RESOURCE: Download the June monthly newsletter for songs and activities to supplement at home what your child is learning in eKidz.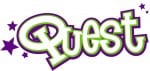 Bible Story: Genesis 1 :: The Beginning
Main Point: The Stories in the Bible ARRR Real!
Series Memory Verse: "When you look for me with all your heart, you will find me."   Jeremiah 29:13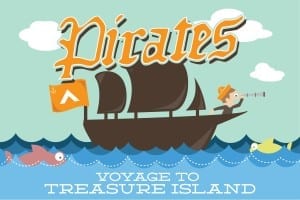 Lesson Overview:   AH HOY MATEYS! This weekend we became pirates in our new series called Pirates! Voyage to Treasure Island.  We had a great time playing a pirate game called Musical Islands, eating Polly's Crackers, and singing pirate songs while learning "The Stories in the Bible ARRR Real!"
We discovered the story of creation and how God created the world in six days and rested on the seventh day.
A real pirate is never without a treasure map, and this weekend each Quest child received their very own treasure map!  Each weekend of the series your pirate will collect a treasure chest with a SPECIAL pirate riddle for you and your child to solve together.  The answer to each riddle is a picture hidden on the treasure map!  After you and your child solve the riddle glue the treasure chest to the map.
Here is this week's riddle:
I HAVE COLORFUL FEATHERS
AND I LIKE TO FLY.
I LOVE TO SPEAK.
WHAT AM I?
The answer to the riddle is a parrot!  Make sure to find the parrot hidden on the Pirates! treasure map.  And make sure to play the following pirate game with your family to receive "The Stories in the Bible ARRR Real":
Pirate, Pirate, Where is your gold?
Have your family form a circle and pick 1 person to stand in the middle with his or her eyes closed.  Say the following rhyme:
Pirate, pirate, where's your gold?
Somebody stole it from your hold.
Guess who? Maybe you!
Pirate, Pirate, find your gold!
While your family is saying the rhyme, pass a piece of "gold" (a large coin will work) around the circle. At the end of the rhyme, the family member with the coin should hold it behind their back. The person in the center of the circle will open their eyes and guess who has the missing piece of gold. When he or she guesses correctly, have your family say "The Stories in the Bible ARRR Real!"
WEEKEND RESOURCE:  Treasure Chest #1

Monthly Virtue: Unity – Choosing to work together for the same purpose.
Monthly Bible Verse: I appeal to you, brothers and sisters,in the name of our Lord Jesus Christ, that all of you agree with one another in what you say and that there be no divisions among you, but that you be perfectly united in mind and thought.   1 Corinthians 1:10
Bible Story: Joshua and the pile of stones :: Luke 5:17-26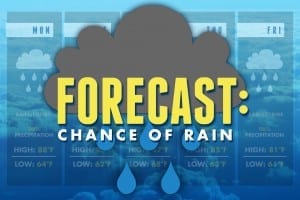 Lesson Overview:  Summer is here!  But what would you do if it rained all summer long!?
You'd stay inside and watch movies!  This weekend Motion kicked off a brand new series called Forecast: Chance of Rain.  Each weekend we will watch some of our favorite movies and see what we can learn about UNITY – choosing to work together for the same purpose.
This weekend we watched clips from Lemonade Mouth, a Disney Channel Movie that centers around 5 high school freshman who meet in detention and unite together to form a band and overcome both individual and collective struggles.
Motion kids read the Bible story from Luke 5:17-26 and discovered that the paralyzed man's friends united together to help him get to Jesus to be healed.  When we work in unity with our friends great things can be accomplished.
Use The Family Forecast as a tool to reinforce at home what your child is learning in Motion.  Each weekend of the Forecast series receive a different Family Forecast movie night guide and plan a movie night for your family based on the movie clips we watched in Motion.
WEEKEND RESOURCE:  The Family Forecast – Lemonade Mouth