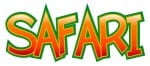 Monthly Focus: God wants me to obey!
Bible Story: Genesis 6:9-14, 17-22
Weekend Activity: Two-By-Two Bites
Happy Father's Day!  This week your child continued learning that Noah obeyed God and built the ark.  Using animal stickers, toddlers had fun decorating a yummy Father's Day gift, Two-By-Two Bites.
This week recreate the Two-By-Two Bites for the entire family! Grab a bag of animal crackers and thin pretzel sticks.  Ask your child what the ark was made out of [wood]. Give each family member some pretzel sticks and build an ark out of pretzels.  From the bag of animal crackers, find pairs of animals.  Say, "the animals came on the ark two-by-two.  Let's put some animals on our ark."  After adding animals to each ark, say, "Noah obeyed God and built an ark.  We can obey too!"
Before eating the Two-By-Two Bites, recite the following prayer:
Dear God,
Thank you for our Two-By-Two Bites.
Thank you for the story of Noah and the ark.
Help me to obey like Noah did.
Amen.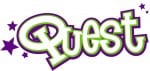 Bible Story: Luke 8:43-55, Jesus helps Jarius and His Family
Main Point: The Bible Says Jesus Helps Me!
Memory Verse: "When you look for me with all your heart, you will find me." – Jeremiah 29:13
Lesson Overview: AH HOY MATEYS! Did you know that "The Bible Says Jesus Helps Me?" from the Bible story of Jesus helping Jarius and his family. We discovered that Jesus helped Jarius and his family.  When Jarius told Jesus that his little daughter was sick, Jesus went to help her! Just like Jesus helped Jarius' daughter, He helps us too!
Has your child been collecting treasure chests from Quest? Each weekend children collect a different treasure chest with a special pirate riddle for you and your child to solve together.  The answer to each riddle is a picture hidden on the treasure map!  After you and your child solve the riddle, glue the treasure chest to the map.
Take some time with your child to solve this week's piratey riddle:
I LIVE ON LAND AND IN THE WATER
AND I WALK VERY VERY SLOW.
I CARRY MY HOME ON MY BACK.
AM I SOMEONE YOU KNOW?
The answer to the riddle is a turtle! Check out the Pirates! treasure map your child brought home from Quest and try to find the turtle together!
Here is a fun pirate game to help you and your family review "The Bible Says Jesus Helps Me!"
Pass the Cannonball
Gather your family and have them sit in a circle. Blow up a black balloon and pretend it's a pirate "cannonball." Toss the balloon in the air and have your family take turns hitting the balloon to keep it in the air. The object of the game is to keep the balloon in the air until the Pirate Captain (designate a family member) says, "Cannonball!" When the Pirate Captain says "Cannonball!" family members will try to grab the cannonball out of the air. Whoever grabs the cannonball first yells "The Bible Says Jesus Helps Me!"
*Advanced: Whoever ends up with the cannonball will say "The Bible Says Jesus Helps Me! Jesus helps me by . . ." and will finish the sentence by giving an example of how Jesus helps them.
WEEKEND RESOURCE:  Treasure Chest #3

Monthly Virtue: Unity – Choosing to work together for the same purpose.
Monthly Bible Verse: I appeal to you, brothers and sisters,in the name of our Lord Jesus Christ, that all of you agree with one another in what you say and that there be no divisions among you, but that you be perfectly united in mind and thought.   1 Corinthians 1:10
Bible Story: David and Jesse :: 1 Samuel 17:12-22
Lesson Overview:  This weekend we discovered the importance of unity within our families! David (check out 1 Samuel 17:12-22) was too young to go to war with his brothers, but that didn't mean he couldn't unite with them to help Israel. David chose to work together with his father by tending to the sheep and taking food to his brothers on the battlefield.
In large group, we saw how a pretty incredible family chose to be unified and work together for to save the world.  Check out The Family Forecast to see what movie we watched this week and activities to complete with your family.
WEEKEND RESOURCE:  The Family Forecast – The Incredibles (Use The Family Forecast as a tool to reinforce at home what your child is learning in Motion.  Each weekend of the Forecast series receive a different Family Forecast movie night guide and plan a movie night for your family based on the movie clips we watched in Motion.)