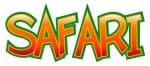 During the month of November, toddlers will be focusing on thankfulness and how God wants us to be thankful for all things. Toddlers will be learning the Bible story of how Jesus healed the ten lepers and only one came back to say thank you. Recite this poem with you child throughout the week to remind him/her of our monthly focus, God wants me to be thankful.
 Only One Poem
1, 2, 3, 4, 5, 6, 7,
8, 9, 10 sick men.
Jesus loved them.
Jesus loved them.
Now they're well again.
1, 2, 3, 4, 5, 6, 7,
8, 9, 10 like new!
Ten were healed,
But only one
Came back to say,
Thank you!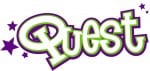 Quest began a new series called Under The Big Top. Quest-age children will join a new friend Ethan as he adventures into the circus and learns life lessons from the Bible, like 'I will obey,' and 'I will listen.'
This past weekend, Quest children learned 'I will do my best,' through the story of when Joseph was in prison, how he did his best and God blessed him for it. Sit down with your child and make a list of things your child does during the week, like chores, playing with friends, going to school, etc. Ask your child how he/she can do their best in each thing. Throughout the week, after your child does one of the things on their list, ask them, 'Did you do your best?'

This weekend in Motion we continued our new series all about creativity. Kids learned that ultimately our creativity comes from God and how He designed us. In our Bible story Miriam and her mother had to think BIG to save baby Moses, and God used them to make a BIG difference.  In the same way, when we use our imagination to think BIG, God can use us to make a BIG difference too!
Continuing the Conversation…
During small group kids had the opportunity to show their creative side and make mini wallets out of duct tape while talking with their friends and small group leaders about how they can think BIG to solve the problems they're facing.  They also spent this time discussing the memory verse for this month and what it means to be "created to do good works." (Ephesians 2:10.) This week give your kid(s) a chance to practice being creative by making a full size wallet. While they are working ask them about how Miriam thought BIG to save her baby brother, what Ephesians 2:10 means to them, and how they are using their imagination to think BIG and make BIG difference this week!  Find instructions on how to make the full size wallet here.