1st – 5th Grade
Monthly Bible Verse: 2 Timothy 3:16-17 "All scripture is God breathed and is useful for teaching, rebuking, correcting, and training in righteousness, so that the man of God may be throughly equipped for every good work."
Bible Story: Jesus took our punishment. | Matthew 27:32-54
Lesson Overview: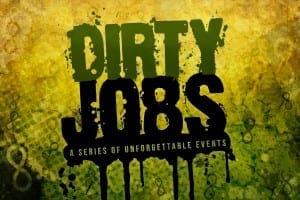 For the past seven weeks we have learned seven unforgettable stories from the Bible, but this weekend's story is the MOST unforgettable story forever told. It's the story of how Jesus took our punishment.
We normally get a punishment, or a consequence, for doing something we aren't supposed to do. In the Bible God gives us guidelines to help us know how to live. When we do things the Bible tells us not to do those are called sins.

God is so good that He cannot be near sin, so every time we do something He tells us not to do it pushes us farther away from Him.
God loves us SO much that He doesn't want our sins to keep us from Him. He sent Jesus to take the punishment for our sins. Because of Jesus' sacrifice we can be close to God again, and one day if we believe in Jesus, we can be with Him forever in heaven.
Go back and read the unforgettable story from Matthew 27:32-54. Use your story sheet from Motion to help you review the story as you read. See if you can add any extra details to your story sheet then find someone that you can retell the story to.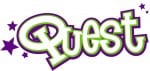 3 years – Kindergarten
Bible Story: Jesus Took My Punishment! | Matthew 28:1-8
Main Point: Jesus Took My Punishment!
Memory Verse: "Your word is a lamp to my feet and a light for my path." – Psalm 119:105
Lesson Overview: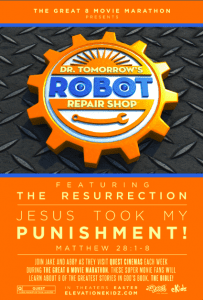 This was our last weekend at Quest Cinemas for The Great 8 Movie Marathon! We had a great time learning "Jesus Took My Punishment!" from our Bible story about Jesus' death and resurrection.
During our feature presentation, we watched Dr. Tomorrow and his friends, Pixie and Newton, learn what it meant for Jesus to take our punishment. Jesus took our punishment by dying on the cross!
When Pixie knocked over Dr. Tomorrow's crystalline orb, Newton decided he would try and be like Jesus and take Pixie's punishment. But it turns out Pixie didn't break the real crystalline orb, so no one was in trouble with Dr. Tomorrow!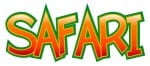 6 weeks – 2 years
Monthly Focus: God Gave Me the Bible!
Bible Story: The Resurrection | Matthew 28:1-8
Weekend Activity: Jesus is Alive craft
What a wonderful God we have! Jesus is alive! Jesus died on a cross, but after three days He rose again and went to Heaven! God loves us so much that He gave us Jesus, and we can celebrate Jesus is alive!
Play Cross Hide and Seek with your toddler. Hide the cross your toddler decorated in eKidz in a room in your house. Say, "Jesus died on a cross, but he rose again! Hidden in this room is the cross you decorated. Let's find the cross!"
Once the cross is found, say, "Jesus is alive! Thank you God that Jesus died on the cross for us but rose again!"  Encourage the toddlers to repeat "Jesus is alive!"