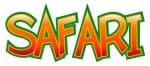 This weekend toddlers learned baby Jesus was born in a stable and the star marked the place where Jesus was born. They had fun using gold star stickers to decorate the sky over the nativity scene on the picture they brought home.
This week, make a yummy, edible Baby in a Manger snack – you'll need shredded carrots, a pita, and a banana.  Help your child place the shredded carrots in the pocket of the pita bread to represent the hay, then place a banana "baby" (slice of banana) in the pocket on top of the carrots. As you make your snack, talk with your child about how glad we are that God sent baby Jesus!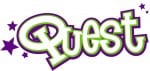 This weekend in Quest, Professor Playtime and Holly helped Grace learn I Will Share My Things! After hearing the Bible story about the three wise men from Matthew 2:8-20, Grace decided to share all of her toys with her friends!
Sit down with your child and help them glue the Wise Man cutout he or she brought home this weekend onto page 15 in their Christmas White Out Coloring Book. Talk with them about how they can share their things with others just like the three Wise Men shared their gifts with baby Jesus.
Also, help your child review this month's memory verse every day this week:
The Father sent His son to be the Savior of the World. 1 John 4:14b
Children who can recite the memory verse during one of the Christmas Eve worship experiences will get to pick a special prize from the Christmas Chest!

During the Christmas season, many families undertake some additional baking adventures. Hopefully, you've never seen anything like what the Oldman family got into. Check out episode 3 of The Oldman Family Christmas and see if the Oldmans remember that the greatest gift we could give anyone is Jesus.
Giving and receiving gifts is one of the most exciting traditions of Christmas. It's fun to pick out the perfect gift to give someone you love or to imagine exactly what's in the gigantic box under the Christmas tree – the one with your name on it. What you may not know is that the tradition of giving gifts comes from the Bible!
Three kings traveled a very long distance to give baby Jesus gifts of Gold, Frankincense, and Myrrh. But the best gift that was ever given came from God. God gave us Jesus. At Christmas we celebrate His birth.
Ask each family member the question, 'What is the best gift you've ever received? What made it so special?'