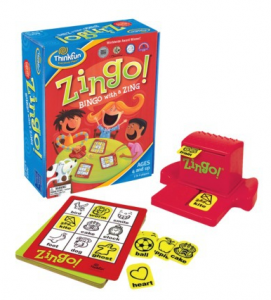 Looking for a new game for your next family game night?  Check out Zingo!, a Bingo-style game that both kids and parents love!  For ages 4 and up, Zingo! helps kids learn image, word and number recognition, and helps strengthen their memory and concentration skills.
To play, the first player to fill his or her Zingo! card with matching tiles wins!  Rules can be adjusted to increase or decrease the level of competition.  Each game takes about 30 minutes to play and it is the perfect size to take with you when traveling.
Not only is it fun, it's educational too!  Awarded the 2002 Oppenheim Toy Portfolio Gold Seal, the 2002 National Parenting Center Seal of Approval, and the 202 Parents Magazine Parents' Choice Award, Zingo! is a great summer bridge activity to help reinforce skills taught during the school year.  And the best part?  Kids will be having fun doing it and beg to play this game again and again!
You can buy Zingo! at most retail stores, including Target, Wal-Mart, and Toy's R Us.