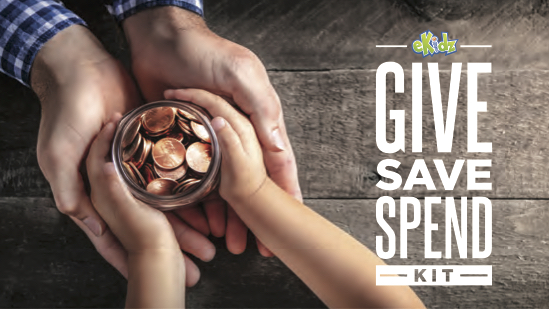 Proverbs 22:6 says, "Start children off on the way they should go, and even when they are old they will not turn from it." If we want our children to prioritize handling their finances in a godly way when they're older, we need to start training them to do so while they're young! 
That's why eKidz has made it a priority to provide families with "Give. Save. Spend." kits. These kits teach kids to first GIVE 10% of their money back to God, then to SAVE 10% of their money for the future, and then SPEND the rest in a God-honoring way. At many of our physical locations, "Give. Save. Spend." kits are available from eKidz upon request. The kits include three jars, labels for each jar, and a set of family devotionals.
If you aren't near a physical Elevation Church location or prefer a more customized approach to your family's "Give. Save. Spend." kit, eKidz now offers downloadable resources you can print at home to create your own money management system, featuring:
Family devotionals to help your family learn what God says about how we manage our money

Three different designs kids can choose from to match their own personal style

Multiple label options to print and attach to their three containers (e.g., jars, envelopes, resealable bags, etc.)

An alternate option to print three foldable boxes (card stock or heavyweight paper recommended)
To create your customized "Give. Save. Spend." kit, download the devotionals and then choose one of the options below:
If using the printed labels, find three containers, such as jars, envelopes, or resealable bags. Cut out the "GIVE," "SAVE," and "SPEND" label options you like best, then glue or tape one label to each container.
If using the foldable boxes, cut out the boxes along the outside lines, then slice open the money slot in the top of each box. Follow the instructions on the printed pages to fold each box. We recommend reinforcing the boxes with tape or glue to make sure your child's money stays safely inside!
As you assemble the "Give. Save. Spend." kit, talk to your child about what the Bible says about money. Use the devotionals to generate conversations about giving God's way.
To help teach your child about how to manage money, we recommend setting aside some money to give your child over the next few weeks. Consider creating a household chore chart where your child can earn an allowance, encourage your child to think of ways to earn money (such as raking a neighbor's leaves or hosting a lemonade stand), or reward your child for other behaviors.
Use these opportunities as teachable moments with your child, helping your child determine how much money to GIVE, SAVE, and SPEND.